My eastern 'objective terminal' in 1977.




Dr. W.G. Houston was White River's physician from 1933 until his death in 1966. In 1985, the centennial of White River and the railway line, his wife Mary Houston put together a wonderful, comprehensive pictorial history of White River. Using old photographs shared by White River's citizens, it shows all aspects of community life in the little railway town from its very beginnings. Most of the following information on White River's development comes from her book.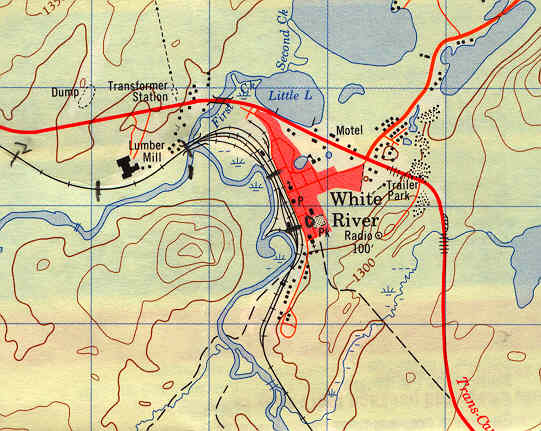 In the earlier days of White River, the CPR built the following:
Locomotive and car shops and a passenger station with business offices.
A coaling facility and water tank.

Worker housing and a CPR rooming house.
A building for storage of block ice cut in the winter - which was used for freight car ice bunker refilling, and likely some local refrigeration during the summer.
Stock pens to feed and exercise entire trains of live cattle coming east for slaughter (before reliable refrigeration and the ability to freeze meat for transport). Other livestock, such as sheep and horses, was also sent across the country.
In the late 1970s, loaded stock cars were still coming east, marshalled at the headend of some of our freights. However, the stock pens were demolished in 1976 because the Winnipeg to Toronto journey could be made without cattle rest stops within the federally required 40 hour period. The pens were located where it says "First Ck" on the map, by Little Lake.
---

When in White River, stay at ...
White River once had a YMCA which served as a pleasant centre for townspeople to meet socially and a place for visitors to stay. Its main function was providing rest facilities for off duty crews and junior railway personnel from out of town. It burned down in the 1950s. On the same location, CP built a bunkhouse where we slept and/or waited until our trains arrived. It is located at the bottom tip of the red shaded area of the map.

The original CPR bunkhouse is the brown building, and we slept behind in the green "portables".

---
In the Old Days ...
Before the 1960s (approximately) when particular vans (cabooses) were assigned to particular conductors ... the conductor and the two brakemen slept on wooden benches - with mattresses and bedding - in the van when off duty and away from home. But the engine crew - the engineer and fireman - slept in the brown building above when off duty and away from home.
Consider a single typical eastbound freight running from Winnipeg to Montreal ...
Ten (5 + 5) crew members are required to move it from Schreiber to Chapleau.

At White River, the Schreiber crew rests and will return home to Schreiber on some other train.
At White River, a rested Chapleau crew will take over this particular freight, thus returning home to Chapleau.

Freight Train runs ... Schreiber to White River


Arriving operating crew lives in Schreiber



Freight Train runs ... White River to Chapleau


Departing operating crew lives in Chapleau



Engine crew sleeps in White River bunkhouse
Engineer
Fireman

Engine crew sleeps in White River bunkhouse
Engineer
Fireman

Train crew sleeps in van


Headend brakeman (rides on engine)
Tailend brakeman
Conductor

Train crew sleeps in van


Headend brakeman (rides on engine)




Tailend brakeman




Conductor
Remember this was typical in the days of steam before 1960.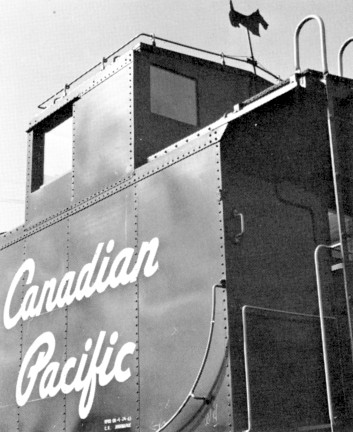 In large terminals - not necessarily White River - conductors put special markers on top of their van cupolas to make their van easy to spot.
... like markers on auto radio aerials in crowded parking lots today.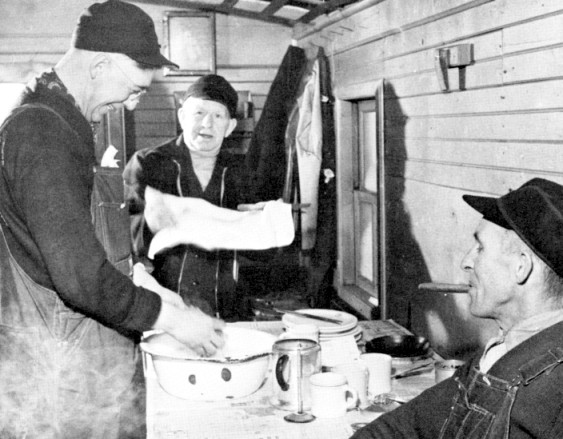 Inside a steam-era caboose on an American road with the train crew - washing dishes.
Later in history ...
when the van was
left attached to the through freight train
and
not assigned to the conductor
living in Schreiber or Chapleau ...
the conductors and brakeman bunked in with the engine crew at the enlarged bunkhouse.
A big happy family.
---
Getting back to the White River bunkhouse in 1977 ...
Each room had its own desk, chair and bed. The place had showers, cooking facilities and satellite TV.
On arrival, you simply wrote your name beside any room number on the chalkboard where the 'name space' was blank.
When the crew callers came for us, they had four names (diesel era) for the ordered train. They looked for your name ... and came to your room if you weren't in the 'common room' watching the Peter Gzowski talk show on CBC TV.
At your room, the crew caller would:
Go to your room and bang on the door.
Immediately open the door.
Immediately turn on the light and walk right in.
Say something like "Gagnon, extra west at 0300".
Squint at you for a second to satisfy themselves you were past the point of going back to sleep.
Leave, closing the door and leaving the light on.

You then got ready and reported to the station to take your westbound freight train back to Schreiber at 3 AM.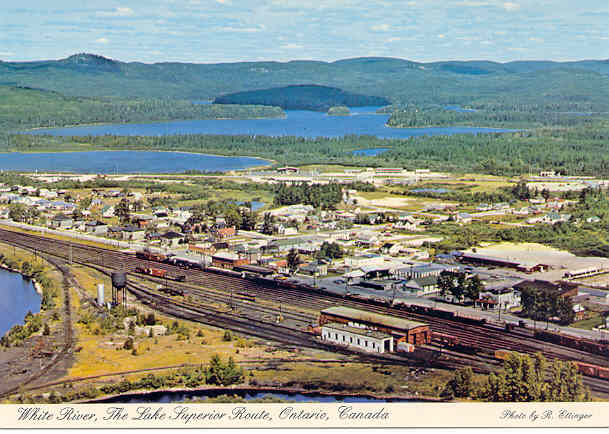 Here is White River in the 1970s. The Trans-Canada Highway runs across the top of the town on this postcard and you can see the souvenir shops and services which sprang up in the 1960s to sell those "coldest spot in Canada" T-shirts to tourists. You can also imagine that when
The
White River (lower left and bottom) flooded there would be wet basements all around.

Looking back from the dome car on the westbound
Canadian
in 1984, you can see the station and offices to the left of our track, then the yard, and the water and fuel facilities to the right. At this point, White River was losing its ability to repair locomotives and cars to larger facilities such as Thunder Bay.
---
In the White River yard office
In researching this piece, I was reminded of one of the nicest experiences I had during my Lake Superior effort. For a short while I worked as an "intern" at the White River yard office with the night shift machine operator Bob Mura. He taught me how to work on the old IBM teletypes - which produced a punched tape record of a train's cars (a train consist). These long tapes were wrapped in a figure-eight motion around your thumb and pinkie finger and hung up on pegs to be fed into the machines for later transmission to Montreal to update their car control computer. Today, you could probably record the data from a
room full
of these primitive "storage media" on a single CD-ROM.

Quoting a 1938 reference: "The usual speed of transmitters on railroad circuits is about 6 pulses per second.
This means that about 360 characters will be sent per minute."
(This 6 Hertz 'processor speed' sounds about right as I remember the machines)


---
One cold dark winter night, the powerful White River yard office radio crackled with an engineer's call that their freight had just put fifty ("five nought") cars in the bush to the east of White River.
"Man, that's railroading!!"
said Bob.
Whenever there was a derailment, the trains would all cram into terminals like White River to wait for hours or days until the line could be reopened. Stranded train crews at the bunkhouse were sometimes called for duty just to refuel the diesel-powered refrigeration units of similarly stranded semi-trailers and shipping containers travelling on flatcars.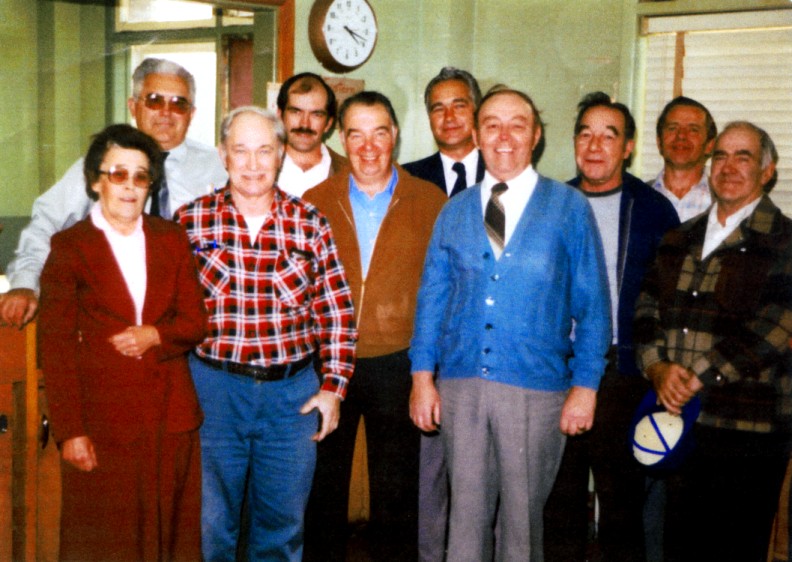 Eddie Doyon's retirement at White River station.
Photo courtesy of Jason Cottom
Edna & Ed Doyon, R.J. Mura (dark glasses), Bill Card, Charlie Linklater, Ernie Gionet, Tommy Hogan, Mac McLeod, Irvin Baziuk, Bob Roffey
.
I am very grateful to Bob Mura's grandson for reading my memories of White River, contacting me, and sending this photograph (April 2009).
The event shown dates back about 30 years and I recognize many of the faces.
I think the facial expressions here communicate a lot to you about my experiences in White River.
---
Bob Mura taught me how to use the IBM teletypes during the night shifts.
Assistant Superintendent Tees had suggested I could stay at the bunkhouse during the training.
I was preparing for a summer relief vacancy at a station to the east.
Bob was a good patient teacher ...
even when the Montreal computer repeatedly
rejected the train consist tapes I had typed off-line
and then submitted on a live machine.
He explained to me that the running trades required a 'different kind of cat' ...
and that life on the road could be very demanding, with significant stress and time away from home.
In our short time together, he certainly made me feel much better about some decisions I had made.
Eddie's Retirement wasn't the only 'end of career event' which Bob attended.
I departed White River (and CP Rail) for eastern Ontario on Train Number 2 in the middle of the night.
It was a clear and cold, and the patches of snow remaining on the hard asphalt platform squeaked underfoot.
Bob came out with me in his shirt-sleeves to see me off ... and waited there with the station lights behind him as I boarded.
I'll always remember his friendliness and support during those last few days.
* * *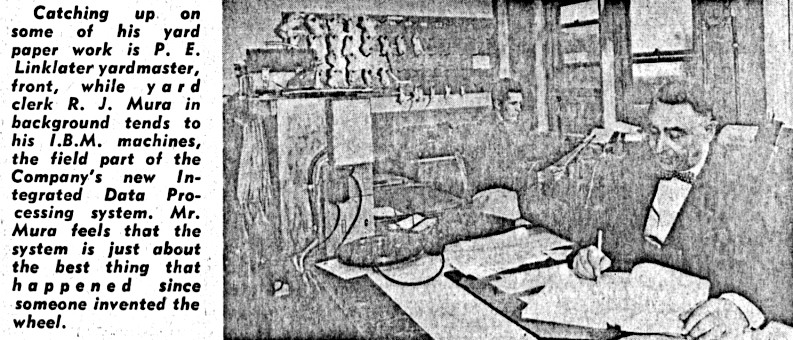 from L.C. Gagnon
A 2009 scan of a just-discovered 1980 photocopy of a
1958 CPR Spanner magazine
.
You can see the figure-8 wound tape consists - usually one for each train - on the varnished wood pegboard.
And there's Bob at the centre of the photograph.
[After seeing this photo, Jason Cottom advised me that P.E. Linklater is R.J. Mura's father-in-law ...
Many railroaders had nicknames and Yardmaster Linklater was known as 'Hot Cakes'.
If you are doing the math at home ... this is a photo of Jason's Grandfather and

Great

Grandfather]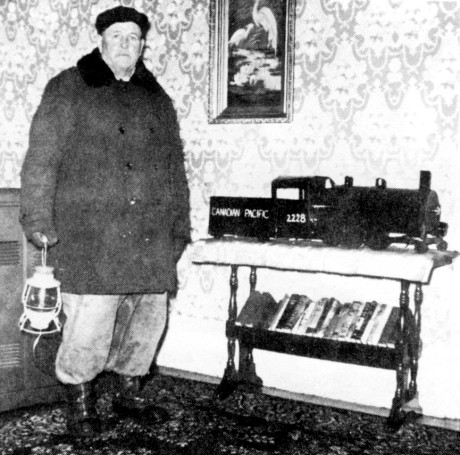 "Clarence Cottom beside engine 2228 that held the punch bowl for his retirement party.
Photo: Courtesy J. Dillabough"
This is one of my favourite photos from Mary Houston's book
and I have previously posted it as part of other White River pages.
It shows Jason's other grandfather.
Sometimes cakes or other mementos were decorated with the locomotive number of a retiree's last run.
Here is a 1932 snapshot of another Angus Shops built engine of the same class as Clarence Cottom's 'last run'.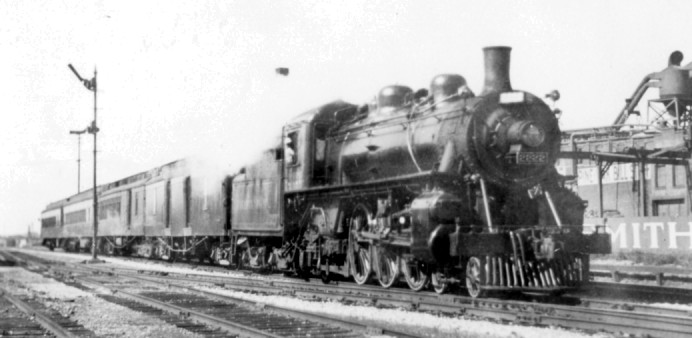 ---
---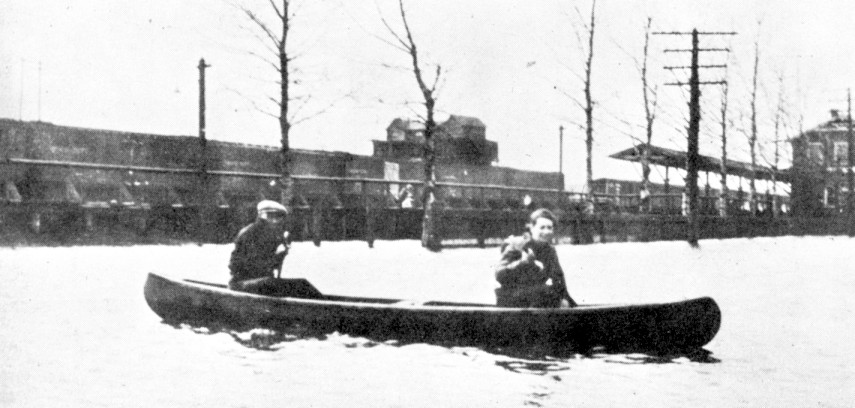 "Flood - May, 1936. Clem Cowan and Mary Whent paddling on Winnipeg Street"
It must have been quite a project to pull together, safeguard, sort, select, caption, reproduce, and return
a collection of photos to represent White River's 100 years of history in 1985.
Mary Houston (shown here as a teenager) and the citizens of White River
have made a great contribution to the understanding of
'the human experience' of railroading and living together
in a small close-knit CPR community from its earliest days.
---
---
Schreiber existed for the railway, but gradually a more balanced community developed.
Here is a Schreiber news column from the Fort William Journal of July 18, 1894 - nine years after the line was completed.